Basic Flatware
Baroque Flatware
Steak Knife
Fish Set
Salad Serving Set
Baroque Salad Serving Set
Ladle Set
Baroque Cake Server
Baroque Matte Tapas Spoon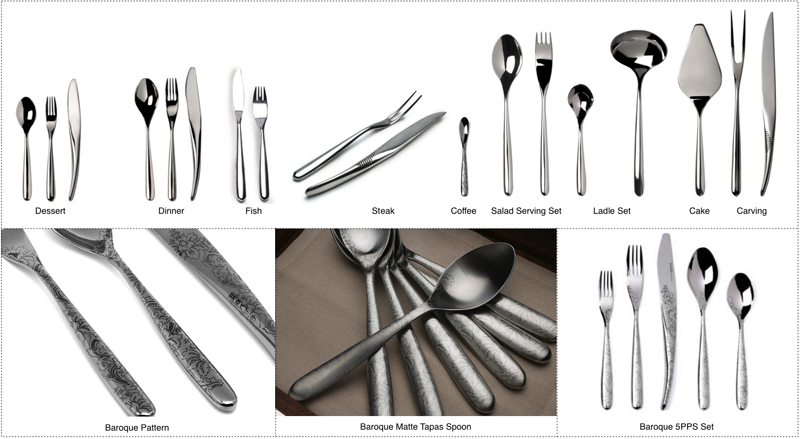 FRANKIE FLATWARE

The design of Frankie flatware is based on a study of a selection of classic and contemporary flatware pieces to recreate their best features. The result is a brand new style of flatware with a very distinctive shape yet also referencing well-known objects, which is what makes them so attractive and easy to combine with other tableware of any style. Each piece is handcrafted in 18/10 steel. All knife blades are made of 18/0 steel to make them more resistant and easy to sharpen. Dishwasher-safe. Made in Spain.

Frankie flatware comes in two styles: Basic and Baroque. Baroque pieces have the same shape as the Basic pieces, but they are laser-engraved with an exquisite Baroque pattern inspired by old wallpaper designs.

Frankie's simplicity of lines and its strong formal nature allow it to undergo continual metamorphosis without losing the essence of its design. The application of engravings with different inspirations, like a "tattoo", makes Frankie evolve and adapt to the latest trends.

Frankie Basic and Baroque 5PPS Set includes: Dinner Knife, Dinner Fork, Dinner Spoon, Dessert Fork, and Dessert Spoon.